Lei giving (piling) is a common a scene at graduations.  Consider lei with big visual impact such as the single orchids, carnation, and plumeria that are big in size and bright in color. Of course price are very reasonable for the tuberose, heea, sea grapes and ti-leaves lei but with less visual impact.  Then again, it is not about visual impact with lei giving.  It's about sharing the aloha and giving congratulation.  Have fun at the graduation.  Take plenty pictures, okay.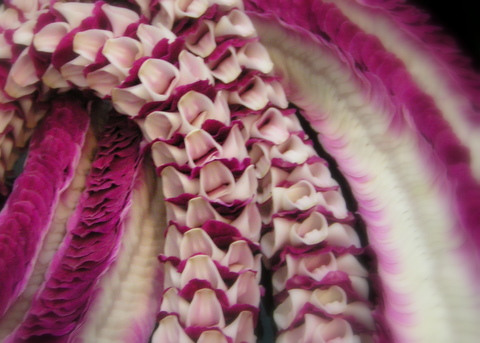 Christina Style Orchid Lei and Angle Style Orchid Lei (shown above)
By the way, we are on your way to Waikiki Shell.  So you can simply drop in, pick up the lei, then head on down to the Shell. Here are some of the schoolss that are having their graduation at the Shell.
6/5/2010 Hawaii Baptist Academy
5/23/2010 Kaimuki High School
5/19/2010 Hawaii Pacific University (HPU)
6/6/2010 Hawaii Mission Academy
Permalink Comments off