Kadomatsu is a symbol of strength, flexibility, constancy, vitality, longevity, purity, sweetness and new beginnings. Follow the Japanese tradition, locals placed them at entries to greet ancestral spirit as well as a gesture of invitation and prayer for the New Year. How can such simple arrangement of green bamboo, pine and plum blossoms tied together with straw rope can symbolizes so many things. Each element in the arrangement lend its meaning to the full piece. Check out our last years post on the symbolism of kadomatsu. Add to it could also be white chrysanthemum, kokutan and nanten. Happy New Year, everyone.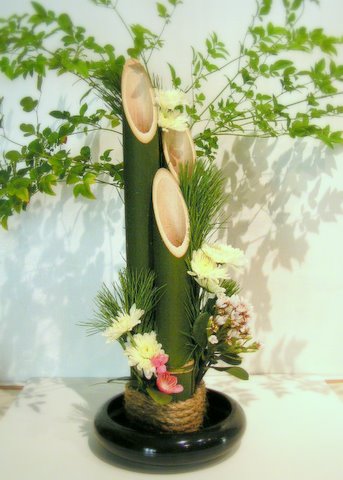 We will have three sizes of the Katamatsu for sale at the store.
**Minimum purchase for delivery is $45.
Call us to confirm on inventory at 808-732-7668
Care for Kadomatsu
Kadomatsu anatomy
More photos
Human Flower Project
http://humanflowerproject.com/index.php/weblog/comments/kadomatsu_welcoming_japans_new_year/
Article on local kadomastu
http://archives.starbulletin.com/2000/12/01/features/garden.html
There is also Kadomatsu Fundraiser sale by Local Troop 201 Boy Scouts
http://www.troop201hi.org/index.html