Wedding
You're engaged? Congratulation! Happy wedding planning. Here at Sweet Blossoms Hawaii, we service wedding both large and small. Whether it be simply creating the bridal bouquet plus a few lei or floral service for the full wedding event. We are here to help.
Let's talk – Have questions about flowers? Make a appointment and let's talk. Out initial consultation is complimentary you. Over the years, we found that communication between the florist and the couple are the most important thing on getting what the couple expect for their wedding ceremony. Make sure you're comfortable with the person you're dealing with, let it be the photographer, the wedding planner, or the florist.
Bring pictures – Clip pictures of bouquets and centerpiece arrangements that you like and bring them to your meeting. This will help the florist understand your wants.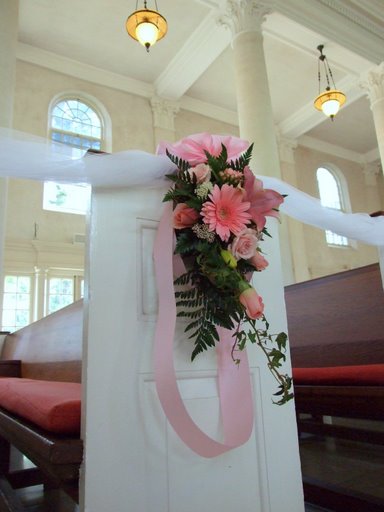 Budget – Not many couples are on a no budget wedding, so we like to have the couple fill out our questionnaire and that helps to initiate the budgeting process. Email us photos and we can give you a cost quickly.  We are not car dealership or contractors, so it's okay to tell us your budget. We are very creative on massaging the budget to get what you want. For example, saving four dollars per table centerpiece of 20 can give you $80 more toward flowers to be used for the most important flower arrangement of all, the bridal bouquet.
Look around – When you go to friend's weddings or other functions, ask for referral when you come across arrangement that you really like. Ask friends and family members for referral. Go to wedding and bridal expos and talk to as many florists as you could. But be aware that the person you talk to may not be the florist that will be doing your arrangement.
Book early – As soon as you know your wedding date. Book your florist early, especially during wedding season between June to September. We service wedding on Sundays even though our store is closed. We required a deposit of 10% to hold the day and 40% more 3 months before the wedding day and finally full balance two days before the wedding date.
Sweet Valentine and Holidays. It may be a very romantic idea to have your large wedding on Valentine Day. But the reality of it is that most florists will not be able to give you the full attention you deserved during the week of Valentine Day. Choice of flowers are limited. You will be paying a premium for the flowers during that week. Sometimes your first choice may even become unavailable as the valentine week comes near. Let's not stack your stress over a happy occasion like a wedding. Schedule your wedding away from busy florist holidays such as Valentine and Mother's Day week. You and your florist will have more time to prepare for the wedding.  If you do want to have it near peak holidays, book early and be flexible.  Happy wedding planning.
More Wedding Post at Sweet Blossoms Hawaii
More Wedding Photos and Wedding Bouquets Photos at Picasa Sweet Blossoms Hawaii
Check out more tips on bridaltips.com