The Environment
Will we be able run a sustainable flower shop? What are the steps we must take? Obviously whatever we do, we put burden on earth. So how do we minimize our share. At Sweet Blossoms Hawaii, we reduce our waste by separate them into recyclable and non-recyclable.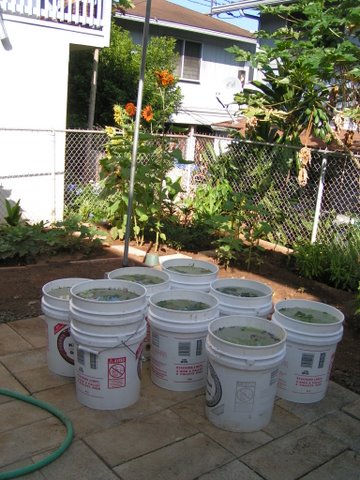 Majority of our waste is green waste of flower and branch clipping; we separate them out and pass it on to the state's green waste pickup. When we change out our water, the water is used for watering plants around the yard. We don't use fancy take out boxes with our logo on them, we reuse cardboard boxes that brought to us from our wholesaler and an architectural office; all remaining unused cardboard are being dropped off at the nearby school fundraiser recycling bin. Lastly, good thing that we have our H-Power plant on the island where most of our non-recyclable will be burned for energy.
Check out Hawaiian Earth Product . That's the place that turn the states green waste into composting products. Look for the Menehune MAGIC brand in stores such as City Mill, Wal-mart and Lowes; or get a truck load direct from their Kapolei and Kailua locations. They even have special blends for most of your garden need.
After the landlord provide us with a new rear yard access in April 2009, we found cross breeze! Can you believe it. Our shop doesn't need air conditioning anymore.Not even a ceiling fan. We are another step closer to be an environmental friendly flower shops. (Well, we do turn on the AC during those couple hot summer days – for the flower sake

Thanks to our customers and friends who bring us their used vases and basket (even wreath base and decorations) Their good wills were turn into credit on their next flower arrangement purchase. Excess vases will be donated to Goodwill during our spring and fall clean out. Thanks to our customers who decline plastic bags, lei boxes to help our environment.
Whenever we could, We buy local first. We have an abandon of tropical flowers here on the island, such as the white, red and torch ginger, bird of paradise, orchid, anthurium. We have protea from Maui farms.Lei are mostly made of flowers grown on the island. Although orchids bulbs are imported but the lei themselves are still locally strung. We also help local farmers to market their Christmas trees, and bamboo (Kadomatsu). So next time when you have a choice, buy local trees and bamboo arrangement. When you have a choice, choose local flowers. Help support your local farmers. Your florist can let you know what is available.
I reason it has something to do with supply and demand. There is a farmer in the world plants a stem of flower that you want. And plants in general takes in carbon dioxide and give out oxygen; are you then buying oxygen for the planet with you flower purchase? I think there is some connection there. So, go ahead, buy more flowers; especially local flowers. More oxgen for the island, for the world.